During these unprecedented times and the fight against COVID-19 cleaning is more important than ever. We at Bettenca Cleaning understand the importance of cleaning and disinfection of high touchpoints and surfaces in all areas of business.
We recommend all follow the guidelines and direction of our local public health departments for the latest and most up-to-date information.
Examples of high touchpoints
Washrooms
Lunchroom & Kitchenettes
Door Handles, Push Bars & Push Plates
Water Fountains/Stations
Elevators
Desks, Keyboards, Phones
Common Area/Lobby surfaces contact points
Light Switches
Railings (Stairways & Hallways)
There are many more additional contact points we can help identify during an on site visit of your business. In many of our clients we have increased service frequencies or added a day porter cleaning services in addition to the nightly cleaning services.
The day porters can complete a circuit of cleaning throughout your workplace and focus on common areas. Once the circuit has been completed our team will continue to repeat the process throughout the day.
Bettenca only uses chemicals that are approved by Health Canada to help stop the spread of germs and diseases. We ensure all our cleaners are using the same chemicals and the DIN numbers are on the list of approved chemicals provided by Health Canada.
Regular sanitizing should be completed during the workday.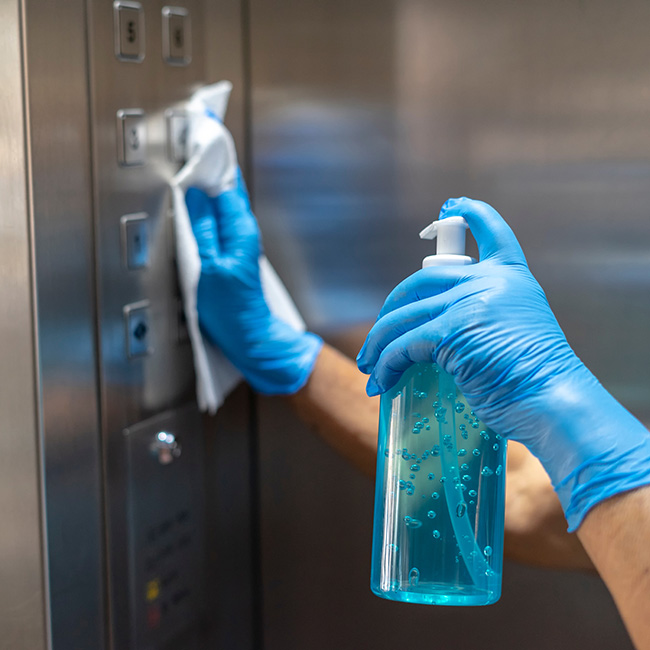 A sparkling home or office with just one call